Each year, more than 25,000 Texans are reported to be victims of identity theft. That's around 68 people a day. All in all, these criminal acts have cost innocent people millions upon millions of dollars in damages. That is a lot of money, and a lot of victims. This is why companies and individuals alike have to be extremely careful, and consider services such as Purges and Cleanouts in order to protect their sensitive information and themselves from the threat of identity theft.
Privacy laws have been enacted by the country to address this issue. This is partly due to the fact that most cases of this crime are committed using improperly disposed confidential information. Laws such as the Fair and Accurate Credit Transaction Act (FACTA) have been signed in order to protect both companies and individuals more from the ever growing threat of identity theft. A very good stipulation in this law is the FACTA Disposal Rule, a provision wherein all consumer information must be destroyed first before it is discarded.
File Boxes, Purges and Cleanouts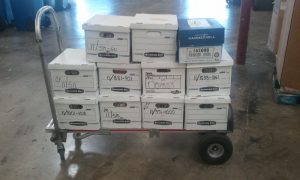 Data Shredding Services of Texas, Inc. – Houston exists to keep your confidential and sensitive information out of the wrong hands. Our purge and cleanout services are perfect for any individual or business in the process of moving or simply cleaning out bulk amounts of private records, papers, and other documents containing sensitive information. Regardless of the amount of materials or whether you need a one-time cleanout or a regular, scheduled document shredding service, we are more than happy to assist you!
We can provide you with large, portable, locking containers that you can fill up with documents at your own convenience. We will simply drop them off at your location and, once you fill them up, we will pick them up and shred them for you at our state-of-the-art facility. A "Certificate of Destruction" for your records will be given after.
Data Shredding services of Texas, Inc. – Houston offers both On Site and Plant Based shredding services to both commercial and residential clients. Don't hesitate to contact us to schedule your cleanout! It is always best to take the safest options, after all, than take a risk and regret it after.