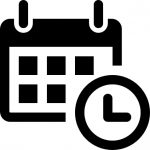 In a world where threats to you, your clients, and your company are abounding, there is nothing safer or more convenient than having your sensitive documents taken care of on a regular basis with scheduled shredding services. Doing so ensures that you are continuously protected against possible identity thieves and fraudsters – something which definitely gives an added sense of security.
Data Shredding Services Inc. offers scheduled shredding services, better known as a routine paper shredding service that is specifically tailored to meet the needs of your company. Depending on your company's requirements, we will gladly destroy any sensitive data you have on a fixed routine. You may opt for a number of schedules (daily, weekly, or monthly) and document containers that are available.
We will be glad to provide you with a secure, stylish document container where you can store the documents you wish to shred. One of our company's representatives will be sent to your office to determine which container can best be used, the preferred frequency of the service, and the best location to put the document receptacle. In true Data Shredding Services Inc. fashion, we provide the document containers for free.
Our Paper Shredding Containers
We have three types of containers, each one perfect depending on the needs of the office.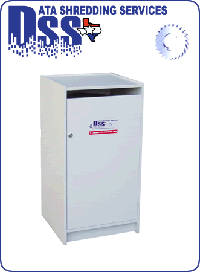 Standard Consoles – These well-designed containers blend in nicely with office decor and they can handle 100 lbs of loose documents. They are locked and can only be accessible by a representative from the company or a designated person in your office. Documents are dropped through a narrow opening near the top of the container. (d:20″ x w:20″ x h:37″)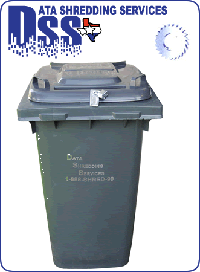 64 Gallon Media Bins – These containers are highly durable and feature both a narrow opening near the top as well as a padlocked lid where you can easily load large volumes of documents. These well-designed containers are able to load about 200 lbs of loose material. (d:29″ x w:24″ x h:41″)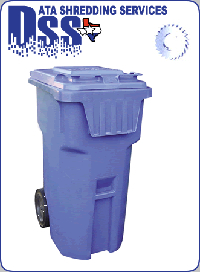 95 Gallon Blue Bins – These are our largest containers, able to hold up to 300 lbs of loose documents. These are commonly stored in a secure area or in large open spaces in your office. Highly similar in design to the durable 64 Gallon Media Bin, these receptacles also feature a slot near the top and a padlocked lid to load large volumes of documents. (d:33″ x w:27″ x h:45″)
These document containers have proven themselves over the years. Offering top-notch quality and aesthetics, these are invaluable to your office. The best part of this is that they are provided for free, as well. Contact us now to set up an appointment! We'd be glad to drop by your office to determine how we can best serve you. Here at Data Shredding Services, Inc., we seek to provide you with the utmost protection in the most convenient way possible!