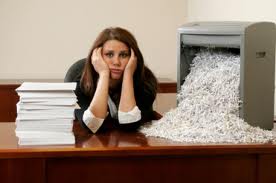 Data Shredding Services of Texas, Inc. – Houston offers secure off site shredding services for residential and commercial clients at a cost that works for your home or office.
Off site shredding is an extremely secure way to dispose of any unwanted or sensitive documents. This cost-effect service is extremely popular with many businesses throughout Houston and surrounding areas. By choosing Data Shredding Services, you are working with a NAID AAA Certified company that guarantees your files will be kept secure.
With off site shredding, we will place lockable containers throughout your office in strategic, high traffic areas. This makes it extremely easy for employees to deposit sensitive documents that need to be destroyed, rather than having them pile up in under desk recycling bins or worse; thrown into the garbage.
Once the shredding containers are full, we will arrive at your business and remove the files with minimal office distraction. We will then transport the documents in one of our secure vehicles and shred them at our off site facility. You can rest assured that your files will be completely secure at all times and we guarantee that your files will never be compromised. We also offer regular scheduled off site shredding services as an added convenience.
Off Site Document Shredding
The shredding containers we supply for our off site shredding services are extremely secure, attractive and fit in with any type of office décor.
All documents will be completely destroyed
A 'Certificate of Destruction' will be given for your records
We offer reliable scheduled services or one-time purges
Secure shredding containers will be supplied
This environmentally friendly service ensures all documents will be recycled
Off site shredding will keep your business in compliance with state and federal privacy laws
Large volumes of materials require the use of powerful document shredding facilities. Our Off Site or Plant-Based Document Shredding Services are conceived specifically for these tasks. Typical Off Site Shredding usually requires the destruction of 150 boxes or more of materials and costs significantly less than On Site or Mobile Shredding.
The process for Off Site Document Shredding is done with utmost importance for efficiency and safety. Our uniformed service representatives will pick up the documents, put them in a locked container, loaded into a secured truck, transported to our shredding facility, and shredded immediately. Each operation is performed according to the strict standards set forth by the National Association for Information Destruction (NAID).
Post Document Shredding Process

The shredded materials are then stored in a secure warehouse, where they await transportation to a safe, accredited recycling facility. Data Shredding services Texas, Inc. – Houston keeps stern written agreements with recycling companies. This guarantees thorough disposal of the shredded documents through ways such as incineration, smelting, and the like. These provisions prohibit the recycling companies to reuse the materials in any way or form as well. Data Shredding Services Texas, Inc – Houston safeguards your documents "internally" from beginning to end by personally handling each phase in the destruction of your sensitive papers.
Through our "Closed Loop" Destruction Process for both our On Site and Off Site Shredding Services, each document is securely shredded and mixed with thousands of pounds of other shredded material. This functions as a failsafe way for your confidential documents to be destroyed and recycled with very little risk on your part. We at Data Shredding Services Texas, Inc. – Houston go the extra mile to ensure that your data is handled in the best, most secure way possible!
Watch document shredding in action…