Off-Site Record Storage Services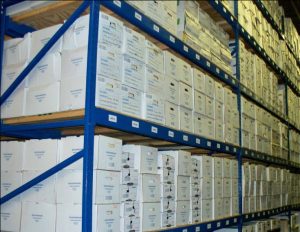 We specialize in Off- Site Record Storage services for all of your information management needs.
From the time that it is created up until their eventual disposal keeping accurate and up to date records is vital to the success of any business or organization. Managing this process is an on-going challenge for companies of all sizes.
Our Records Storage division provides our clients throughout the Houston metropolitan area with a full range of data storage and document storage services. From small growing businesses to large corporations our storage division provides the highest level of security and confidentiality in handling your company's records. Your documents are stored, serviced and delivered as you specify.
Our monthly billing is comprehensive, simple and cost effective. We have built our reputation on the personalized service provided to our customers and are excited about offering our record storage services to our new and existing customers.
With DSS-Storage Division our customers will receive:
Personalized Service
Cost effective off-site record storage
Record access, retrieval, and delivery
Bar code tracking
Simple and comprehensive monthly billing
Departmental inventory and billing
Secured document destruction at discounted rates
Secure document courier service
Legal compliance and retention
Project based services based on client need
Records Storage consulting and program development
Benefits to Off-Site Records Storage Services
There are many benefits to storing your records off-site with DSS-Storage Division including:
You only pay for the exact amount of space used
Full security monitoring 24 hours a day
Complete fire protection systems
Record retrieval/refile is just a phone call away
Warehouse is occupied and viewed daily
Records are less expensive, better care, and easier to locate
On the other hand, the drawbacks to continue to store the documents yourself are:
More expensive
Difficulty in locating files
Mini-warehouses are prime targets for vandals & thieves
No or lack of fire protection
Records deteriorate with mishandling & potential weather exposure
Employees are forced to deal with bad weather conditions in order to locate records/files.
If there is a roof leak, or damage to your records you may not know for weeks or even months!
For more information or to receive a quote on your record storage, contact us today at (713) 597-4812.